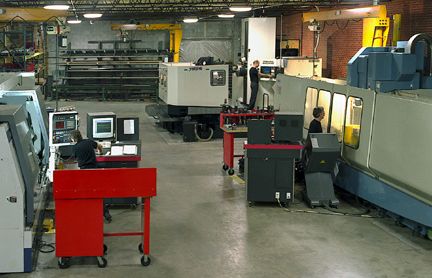 Company Serves High-Profile
Industrial Engine OEMs and Users
Kams, Inc., Specializes in Manufacturing, Re-Manufacturing
and Re-Engineering Camshafts and Followers
By Russ Burget
Over the years, Kams has earned a reputation as a leader in its field and the trust of some of America's largest makers and users of industrial reciprocating engines. Included in a base of 1000 customers are companies such as Cummins Engine, Cooper Energy Services and General Electric. Kams was selected by Cummins to produce the camshaft for its latest diesel engine. G.E. employs Kams to do finish grinding on the cam segments used for one of its low-emissions locomotive applications. Soon the company will celebrate its 30th anniversary.
Kams serves customers in many industries: natural gas transmission and distribution, automotive, electrical generation, marine propulsion, railroad, and the U.S. Military. In addition to its domestic markets, Kams is working with companies in Canada, South America, the Middle East and Australia. Jeff Horton now runs the company his father Bob founded in 1970. The high productivity he achieves is attributable to combining the talents of 20 skilled machinists with sophisticated CNC (computer numerical control) production and inspection equipment. Last year alone Horton added more than
$2 million worth of new machinery. "These machines," he said, "have already broadened production capabilities to support growing customer requirements." One example of the improved production is a recently added machine that has reduced milling cycle time from 6.5 minutes to 22 seconds for a single lobe.
"The centerpiece of our most recent machine acquisitions is a Landis 3L, CNC camshaft grinder that was custom configured for our diverse requirements. It took Landis over a year and a half to manufacture this machine," he said. It is fitted with two spindles. The main spindle is for a 16 in. (406 mm) diameter CBN (cubic boron nitride) abrasive wheel. A swing-down spindle is for a 10 in. (254 mm) diameter CBN wheel used to produce negative radius curvatures. This machine can accommodate the growing need for cam profiles that can lower emissions, reduce fuel consumption and maintain or increase engine performance. Sophisticated equipment is also used to measure and certify that required specifications have been met. Measurement capabilities include a networked SPC (Statistical Process Control) at each work
station, an 80 in. x 48 in. x 40 in. (203 cm x 122cm x 102 cm) CNC coordinate measuring machine with 3-D capability, and a specialized cam measurement machine that measures accuracy to one ten-millionth of an inch and radial accuracy to one arc second.
Kams' production envelope can accommodate lengths from 1 to 40 ft. (30.5 cm to 12.19 m) and lobe and main journal diameters up to 15 in. (381 mm). Production quantities range from a single specialty piece to 100 per day of a single part number production camshaft.
Horton takes great pride in the company's ongoing R&D program, which is directed at finding camshaft solutions to engine- or customer-specific performance problems. Many engines today are required to perform at efficiency and emission levels for which they were not originally designed. The camshaft becomes a focal point on any effort related to performance improvement because it is the engine's mechanical "brain." Kams develops a modified camshaft design by first gaining a thorough understanding of the current engine operating conditions and performance and the 
desired operating conditions and performance. Horton notes, "Most of the modifications for the natural gas industry have to do with improved mixing of gas, intake air charges and increased intake air velocity to promote a more complete burn of fuel. These changes are intended and have resulted in lower NOx emissions and improved fuel economy, a combination many customers consider mutually exclusive."
When Kams offers to provide a re-engineered camshaft, the offer comes with a straight-forward guarantee: if the re-engineered camshaft fails to provide the improved performance agreed upon, the company will replace it with an exact duplicate of the original at no cost to the customer.
Kams actively provides camshaft education, too. Classes are held for up to 30 attendees in an on-site classroom. Subject matter includes camshaft nomenclature, evolution of camshaft design techniques and modern camshaft design and materials. "Cam Technology Day" is provided for individual companies, at which that company's engine types are used as classroom examples.